This article or section is speculation about an unreleased item or feature which does not currently exist in Hidden Chronicles. All data is subject to change.
Unreleased Features
Collections

With the release of June 1st, 2012 there is a "Collections are coming soon" screen when clicking on the little book icon on the user menu in thegame. The
Collections
were then released on June 16th, 2012.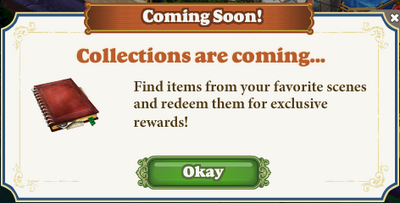 Unreleased Items
~Nothing at the moment~
Ad blocker interference detected!
Wikia is a free-to-use site that makes money from advertising. We have a modified experience for viewers using ad blockers

Wikia is not accessible if you've made further modifications. Remove the custom ad blocker rule(s) and the page will load as expected.