Ad blocker interference detected!
Wikia is a free-to-use site that makes money from advertising. We have a modified experience for viewers using ad blockers

Wikia is not accessible if you've made further modifications. Remove the custom ad blocker rule(s) and the page will load as expected.
Tut's Tomb

—Image © Zynga
Vital statistics
Category
FastFind
Category 2
Guardian Challenge
Total Objects
74
Time per play
60 seconds
Energy GC
10
Energy FastFind
3
Unlocked by
Materials
25 (5x5)
Cash for Material
100
Time Specification
Released
?
End date
TBA
Tut's Tomb is one of the Scenes you enter when playing FastFind. You need to find as many objects as you can in 60 seconds and there's a total of 74 items to find.
It is a FastFind & Guardian Challenge scene that you have to unlock first by asking Friends & Neighbours to send you the required amounts of materials.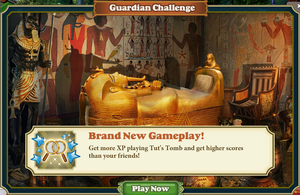 —Image © Zynga
"Player" unlocked the Egg Hunt (Tut's Tomb) scene for the Guardian Challenge.
Come play the Guardian Challenge where you get to play your favorite FastFind scenes in solo mode, with greater rewards and the opportunity to hone your image hunting skills.
Share Bonus:
Clue
Unlock Requirements
Icon
Name
Qty
get free
or Buy
Total
Monocle
x5
Newsfeed
4
20
Straw Fan
x5
Newsfeed
4
20
Cowboy Hat
x5
Neighbor
4
20
Ushabti
x5
Neighbor
4
20
Palm Frond
x5
Neighbor
4
20
Buy all for
100
Screenshot, Object Map, Emptied Scene
Objects To Find
| | | | | | |
| --- | --- | --- | --- | --- | --- |
| Aligator | Ammobelt | Babyturtle | Bandages | Basket | Bat |
| Beads | Blue Orb | Boat | Bone | Bow & Arrows | Box |
| Bracelet | Butterfly | Candle | Canteen | Cat | Cigar |
| Coconut | Column | Comb | Drum | Fan | Fish |
| Flower | Flute | Frog | Gold Button | Hat | Hookah |
| Hourglass | Magnifying Glass | Map | Mirror | Moon | Nefertiti |
| Octopus | Oil Lamp | Owl | Ox | Palm | Peacock Feather |
| Pick | Pillow | Pineapple | Pouch | Pyramid | Quill |
| Red Urn | Revolver | Ring | Rope | Sandal | Scales |
| Scarab | Scorpion | Scroll | Skull | Snake | Sphinx |
| Spider | Stripped Cloth | Sun | Sword | Tablet | Teapot |
| Telescope | Torch | Tree | Triangle | Ufo | Waves |
| Wings | Yoke | | | | |
Gallery