Egyptian Mask

—Image © Zynga
The face of an ancient Egyptian gazes across the centuries
Vital statistics
Scene Tab
Manor
Type
Standard Artifact
Chapter
Gazing Across Centuries
Total Scenes
6
Time Specification
Start date
17-May-2012
End date
TBA
The Egyptian Mask is an Artifact in Hidden Chronicles. It is available since May 17th, 2012 and has a total of 6 Scenes to unlock so far. It was already mentioned at the end of the Greek Statue quests before it was released.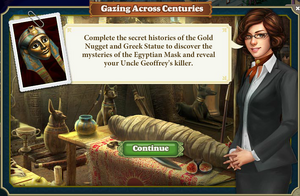 Scenes
Chapter Gazing Across Centuries
Gallery
Ad blocker interference detected!
Wikia is a free-to-use site that makes money from advertising. We have a modified experience for viewers using ad blockers

Wikia is not accessible if you've made further modifications. Remove the custom ad blocker rule(s) and the page will load as expected.