Collections are an achievment available in Hidden Chronicles, which were released on June 16th, 2012. When all items in a collection have been collected, they can be traded in for a special reward.
General Information
There are several ways to complete collections...
Known Collections
Play scenes, find items, and trade in for Rewards!
Reel 'Em In
Gadgets and Gizmos
Wine and Cheese
Mysterious Marvels
Royal Living
Creepies and Crawlies
Shadows and Sleuths
High Fashion
Luxury Cruise
Workshop
Still Got the Blues
Sweet Nothings
Camping Gear
Eternal Love
Mediavel Feast
Secret Agent (same name as 35 but different reward)
Lofftur's Map
Desserts
Eistein's Personal Effects
Mathematics Kit
Medieval Weapons
Office Necessities
Archbishop's Effects
Secret Agent (same name as 21 but different reward)
Gallery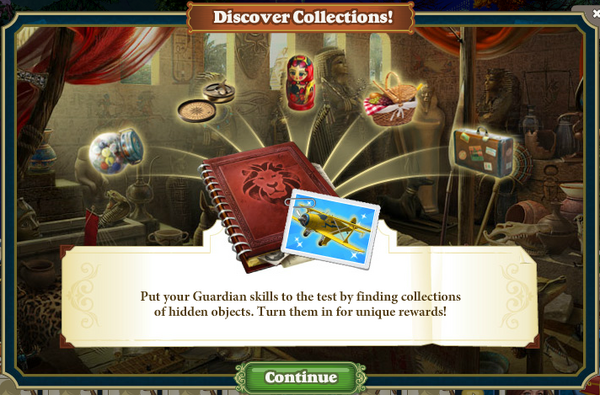 See Also
Ad blocker interference detected!
Wikia is a free-to-use site that makes money from advertising. We have a modified experience for viewers using ad blockers

Wikia is not accessible if you've made further modifications. Remove the custom ad blocker rule(s) and the page will load as expected.