Camera

—Image © Zynga
A tale of hot jazz, love and spy intrigue in the 1950s
Vital statistics
Scene Tab
Manor
Type
Standard Artifact
Chapter
Carrying A Torch
Total Scenes
5
Time Specification
Start date
27-August-2012
End date
TBA
Camera is an Artifact in Hidden Chronicles under the 10th chapter in the Manor tab; "Carrying A Torch". It was introduced on 27th August 2012 and has a total 5 new scenes to unlock.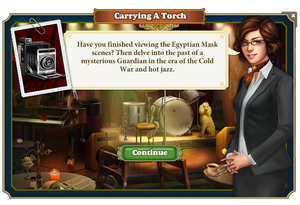 Scenes
Chapter Carrying A Torch
Gallery
Ad blocker interference detected!
Wikia is a free-to-use site that makes money from advertising. We have a modified experience for viewers using ad blockers

Wikia is not accessible if you've made further modifications. Remove the custom ad blocker rule(s) and the page will load as expected.