Ad blocker interference detected!
Wikia is a free-to-use site that makes money from advertising. We have a modified experience for viewers using ad blockers

Wikia is not accessible if you've made further modifications. Remove the custom ad blocker rule(s) and the page will load as expected.

The Ancestral Castle is a Scene that was released as part of the St. Patrick's Day Event. To unlock this Scene a player must complete certain tasks of the The Lost Harp questlines. It can be found after clicking on Ramsey Manor and then choosing the Featured tab.
| Trophies | 1st | 2nd | 3rd | 4th | 5th |
| --- | --- | --- | --- | --- | --- |
| Points needed | 400.000 | 800.000 | 1.400.000 | 2.500.000 | |

—Image © Zynga
"Player" has unlocked the ANCESTRAL CASTLE scene!
Does this scene answer the origin of Fiona's ancient Celtic harp? Play the St. Patrick's Day quests in HIDDEN CHRONICLES and find out for yourself!
Share Bonus:
Clue
Screenshot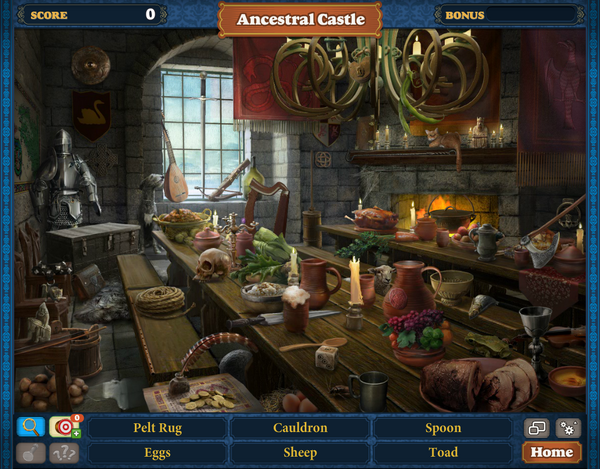 Object Map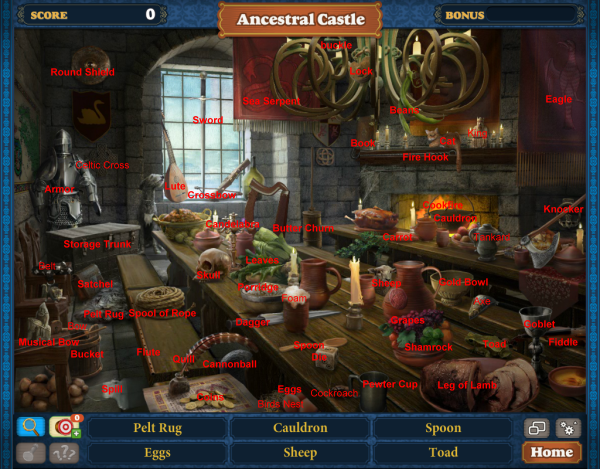 Objects To Find
| Item Name | Icon |
| --- | --- |
| Pelt Rug | |
| Cauldron | |
| Spoon | |
| Eggs | |
| Sheep | |
| Toad | |
| Sea Serpent | |
| Coins | |
| Pewter Cup | |
| Round Shield | |
| Cannonball | |
| Skull | |
| Cat | |
| Quill | |
| Candelabra | |
| Lock | |
| Crossbow | |
| Carrot | |
| Shamrock | |
| Goblet | |
| Gold Bowl | |
| Cook Fire | |
| Satchel | |
| Spool of Rope | |
| Eagle | |
| Lute | |
| Sword | |
| Dagger | |
| Grapes | |
| Porridge | |
| Storage Trunk | |
| Armor | |
| Beans | |
| Bucket | |
| Buckle | |
| Butter Churn | |
| Celtic Cross | |
| Fiddle | |
| Fire Hook | |
| Flute | |
| Knocker | |
| Leg of Lamb | |
| Bow (Musical) | |
| Puddle | |
| Book | |
| Die | |
| Leaves | |
| Bird's Nest | |
| Cockroach | |
| Axe | |
| Belt | |
| Tankard | |
| Fish | |
| Foam | |
| King | |
| Honey | |
| Bottle | |
| Celtic Knot | |
| Chicken | |
| Cobweb | |
| Horse Rider | |
| Manuscript | |
| Map | |
| Potatoes | |
| Rat | |
| Seal | |
| Swan | |
| Table Runner | ´ |
| ? | |
Gallery