A Green Thumbs Up 4

—Image © Zynga
Vital statistics
Start NPC
Bert
Rewards
Rewards
6, 310, 55
Progression
A Green Thumbs Up 4 is a Quest in Hidden Chronicles.
Tasks
Store 2 Gardening Items
Click the Tools button, located next to the Play button, and select the "Store" option. Click 2 Gardening items on your Estate to store.
"Store" Tool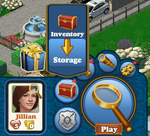 —Image © Zynga
Unscramble this Secret Phrase: REGGOR DNELEM
"Player" completed A Green Thumbs Up: 4 of 4 in HIDDEN CHRONICLES. Join in as they build their Gardening Storage! Puzzle hint: Scientist who studied the genetic traits in peas. Show your puzzle-solving cleverness by putting the answer in the comment!
Answer:
GREGOR MENDEL
Share Bonus:
Estate Coins
Gallery
Ad blocker interference detected!
Wikia is a free-to-use site that makes money from advertising. We have a modified experience for viewers using ad blockers

Wikia is not accessible if you've made further modifications. Remove the custom ad blocker rule(s) and the page will load as expected.